September 1st, 2023

The first annual Caribbean Music Awards was held on Thursday at King's Theatre in Flatbush, Brooklyn, the neighborhood known as New York's "Little Caribbean." Hosted by Grammy-winning artist Wyclef Jean, the show was a vibrant and spirited celebration of all music, people, and culture with roots in the West Indies. 

"I've been to the Grammys, MTV Awards, all kinds of awards around the world. This is the only award show I feel so comfortable, I can wear my bloodclxt sandals," Clef told the audience at the top of the show.

"Tonight is a very, very important night as we celebrate the Caribbean region. Tonight is history," the Haitian music mogul said. "They steal our culture and they change the name of it. They call it 'pop.' Tonight, we're taking everything back to the Caribbean."

Unlike other major music awards like the Grammys or Billboard Music Awards, the Caribbean Music Awards recognized artists from Caribbean music genres, including Soca, Dancehall, and Kompa, among others. Award recipients were chosen by fans, who had opportunities to vote for their favorite songs, artists, and music videos online, months before the event.

"It's much more special when it's from your own people," said Kabaka Pyramid, who was awarded the 2022 Impact Award. He told DancehallMag, "The vibe in here is crazy. Real Caribbean culture inna di place. It's just a lovely vibe, and I'm glad to be here." 

Opening with a performance by Karnival Bounce Crew with appearances from R&B singer Mya, Majah Hype, DJs Jabba and Bobby Konders, and more throughout the night, the energy in King's Theatre was infectious. 

Dancehall artist Ding Dong amped up the crowd along with an entourage of dancers who joined him in performing some of his most popular songs, including Genna Bounce, Fling, and Happiness. Later on, he was awarded Dance Song of the Year for his 2022 song, Bounce.

From Best New Artist winner Tempa to veterans like Wayne Wonder and Machel Montano, who received the Lifetime Achievement Award, to Barbados-born rapper Doug E. Fresh, the Caribbean Music Awards accounted for decades of Caribbean music, and music influenced by the Caribbean, that has not received recognition from larger, mainstream music organizations. As generations of artists and fans sang and danced together, the evolution of Caribbean music and its need to be celebrated was undeniable.

"The music has evolved, and life is all about changing too," Joseph Stepper told DancehallMag. The Wife singer said, "Music is life, so it have to change. If we see the youth them goin astray, I and I as the ancient and some of the elder artist have to teach them the right thing too…The youth is the future."

In one of the show's most memorable moments, a younger generation of Jamaican artists sang in honor of Beres Hammond, who was the Elite Icon Award Honoree. 

Dexta Daps, Kranium, Toni-Ann Singh, and Romain Virgo performed a medley of Hammond's hits, including Step Aside, Rock Away, Double Trouble, and I Feel Good. Kranium, who sang Sweet Lies and Standing in my Way in honor of the Reggae lovers' rock icon said, "It was a great feeling to perform and actually doing a tribute to him was one of the most amazing feelings."

"We grew up listening to Beres and I'm happy I get a chance to be in the music industry and actually meet him and do a tribute to him," Kranium told DancehallMag. "That was a highlight for me."

Hammond was also officially honored by the New York City Council for his contributions to the Caribbean community. 

The night concluded with a high-energy performance by Wayne Wonder, Cham, and Dexta Daps, who won his first-ever award in the Performer of the Year – Dancehall category.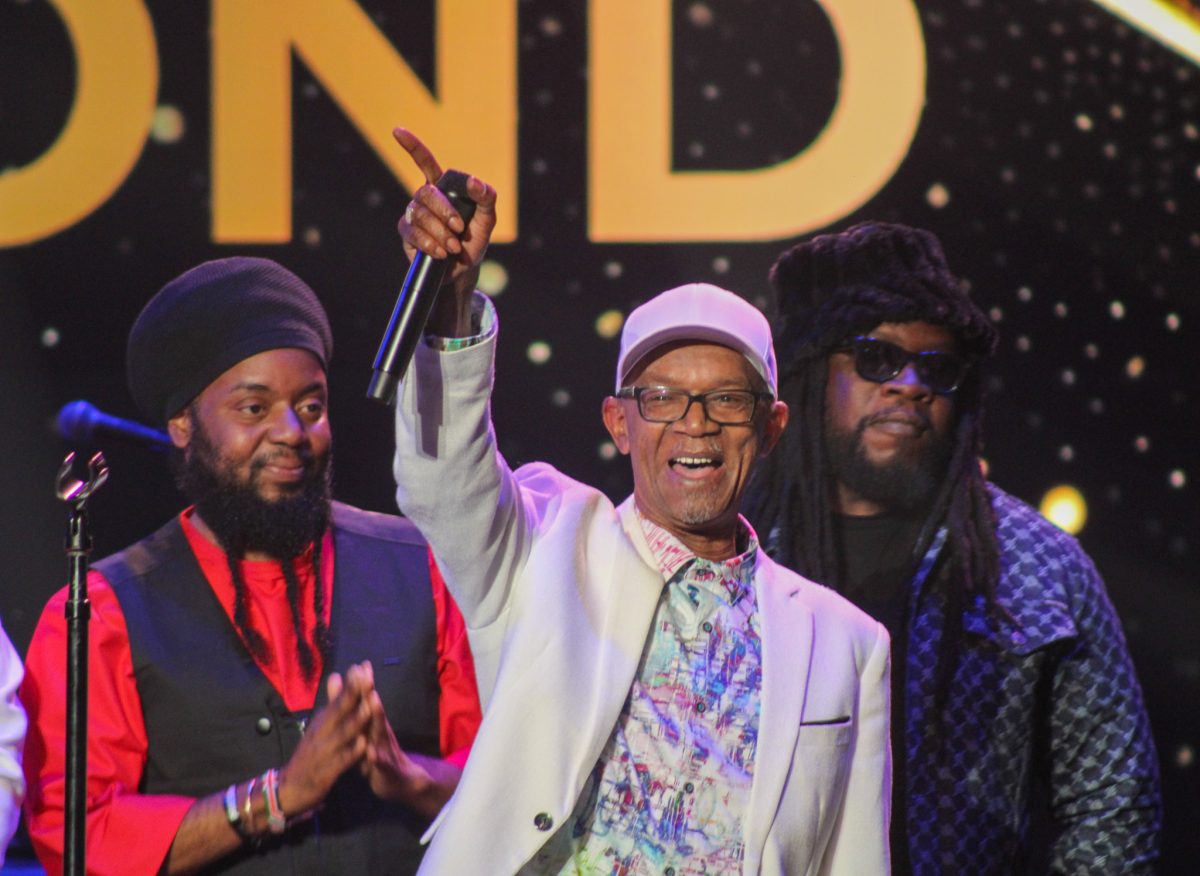 "The best place to be in the world tonight is right here," Cham told DancehallMag. "This should've been going on for a long time, but nothing happens before its time, so we are blessed and happy to be here."
Here is a list of the night's winners and nominees: 
Artist Of The Decade
Winner: Vybz Kartel
Machel Montano
Kes The Band
Beenie Man
Chronixx
Mavado
Bounty Killer
2022 Impact Award – Reggae
Winner: Kabaka Pyramid
Royal Blu
Sevana 
Mortimer
Jaz Elise
Humanitarian Award Honoree – Buju Banton Foundation
People's Choice Award (Fan Favorite)
Winner: Kes 
Dexta Daps
Shenseea
Teejay
Patrice Roberts
Vybz Kartel
Skeng
2022 Impact Award – Soca
Winner: Ding Dong
Rae
DJ Cheem
Jadel
Adam O 
Video of the Year – Reggae/Dancehall 
Winner: Next to Me – Popcaan (feat. Toni-Ann Singh)
Bounce – Ding Dong
History – Masicka
Born Fighter – Jahshii
Dolly – Shenseea
Video of the Year – Soca
Mind My Business – Patrice Roberts
Dingolay – Nailah Blackman, Mical Teja
Jolene – Kes, Dwala
Nasty Flow – Nessa Preppy, DJ Private Ryan
Jelly – Nadia Batson
Easy – Desta Garcia
Elite Calypso Music Award Honoree – David Rudder
Female Artist of the Year (Dancehall)
Winner: Spice
Shenseea
Shaneil Muir
Jada Kingdom
Tina (HoodCelebrity)
Stefflon Don 
Female Artist of the Year (Soca)
Patrice Roberts
Nailah Blackman
Nadia Batson
Fay-Ann Lyons
Destra Garcia
Alison Hinds
Female Artist of the Year (Reggae)
Lila Ike
Koffee
Etana
Naomi Cowan
Ce'cile
Alaine
Male Artist of the Year (Soca)
Bunji Garlin
Machel Montano
Voice The Artiste
Problem Child
Lyrikal
Skinny Fabulous
Male Artist of the Year (Reggae)
Beres Hammond
Kabaka Pyramid
Protoje
Tarrus Riley
Sizzla
Shaggy
Male Artist of the Year (Dancehall)
Dexta Daps
Skillibeng
Masicka
Skeng
Ding Dong
Valiant
Best New Artist – Reggae
Winner: Samora
Aiesha 
Joby Jay 
Irie Souljah
Aza Lineage 
Best New Artist – Soca
Winner: Tempa
Melly Rose
Anika Berry
Shireen B
Faith Callender
Leonce 
Best New Artist – Dancehall
Valiant
Nelly Cottoy
Kraff
Armanii
Stalk Ashley
Bayka 
Collaboration of the Year – Reggae/Dancehall
Winner: Skeng (feat. Nicki Minaj) – Little Miss
Masicka (feat. Steflon Don) – Moments
Popcaan (feat. Imeru Tafari) – Elevate
Sean Paul (feat. Shenseea, Gwen Stefani) – Light My Fire
Skeng, Stalk Ashley – Talibhan
Proteje (feat. Jorja Smith) – Ten Cane Row
Baby Cham, Bounty Killer – Bloodclxxt 
Collaboration of the Year – Soca
Winner: GBM Nutron (feat. DJ Spider) – Down Dey
Skinny Fabulous, Problem Child – Danger
Kes (feat. J Perry) – Liki Tiki
Nailah Blackman, Mical Teja – Dingolay
Kes (feat. Dwala) – Jolene
Kompa Music Award Honoree – Mikaben 
Dance Song of the Year
Winner: Bounce – Ding Dong 
Leggo Di Bird – Laa lee
Bing Bong – DJ Cheem 
In the Water – Suhraw (feat. Chow Minister)
Foot – Squash 
Touch Your Head – Elephant Man
Kompa Band of the Year 
Winner: Klass 
Kai
T-Vice
Bedjine Kadilac
Nu Look
Elite Icon Award Honoree – Beres Hammond
Album of the Year – Dancehall
Winner: 438 – Masicka
Emancipated – Spice
True Religion – Vybz Kartel
Alpha – Shenseea
Scorcha – Sean Paul
Album Of The Year – Reggae
The Kalling – Kabaka Pyramid
Gifted – Koffee
Third Time's A Cham – Protoje
Rise Up – Sizzla
Come Fly Wid Me – Shaggy
EP Of The Year – Reggae/Dancehall
Accoustic Gold – Etana
God N Gun – Govana
In Too Deep – Kranium
Beast Of The Era – Skeng
The Ripple EFFX – Alkaline
Lifetime Achievement Award Honoree – Machel Montano
Performer of the Year – Dancehall 
Winner: Dexta Daps
Ding Dong
Spice
Shenseea
Elephant Man
Baby Cham