November 20th, 2023

Chris Brown has been in the public eye since he was a teen. And as a result, he's been involved in his fair share of high-profile relationships. Some of them are more notable than others, such as his relationship with Rihanna. Others, however, have been subject to speculation and rumors. Although it can be hard to distinguish some of his hookups from actual love interests, here's a rundown of all the new King of Pop's past girlfriends.
Rihanna (2008 – 2013)
(EXCLUSIVE, Premium Rates Apply) LOS ANGELES, CA – JUNE 24: Singers Rihanna and Chris Brown attend the 2008 BET Awards at the Shrine Auditorium on June 24, 2008 in Los Angeles, California. **EXCLUSIVE** (Photo by Jeff Kravitz/FilmMagic)
Chris Brown and Rihanna became subject to dating rumors in 2008 after the two were spotted on dates. The two had known each other during their teenage years, crossing paths in the industry. Evidently, their chemistry developed and the two became one of Hollywood's most prominent couples.
Their relationship took a turn for the worse in 2009. Hours before the Grammy's were to start, the two got into a physical altercation. Chris was charged with felony assault and making criminal threats. In 2012, the couple rekindled their relationship and broke up in 2013. It's unclear where they stand today but in 2022, Brown congratulated her on the birth of her baby with A$AP Rocky.
Draya Michele (2010)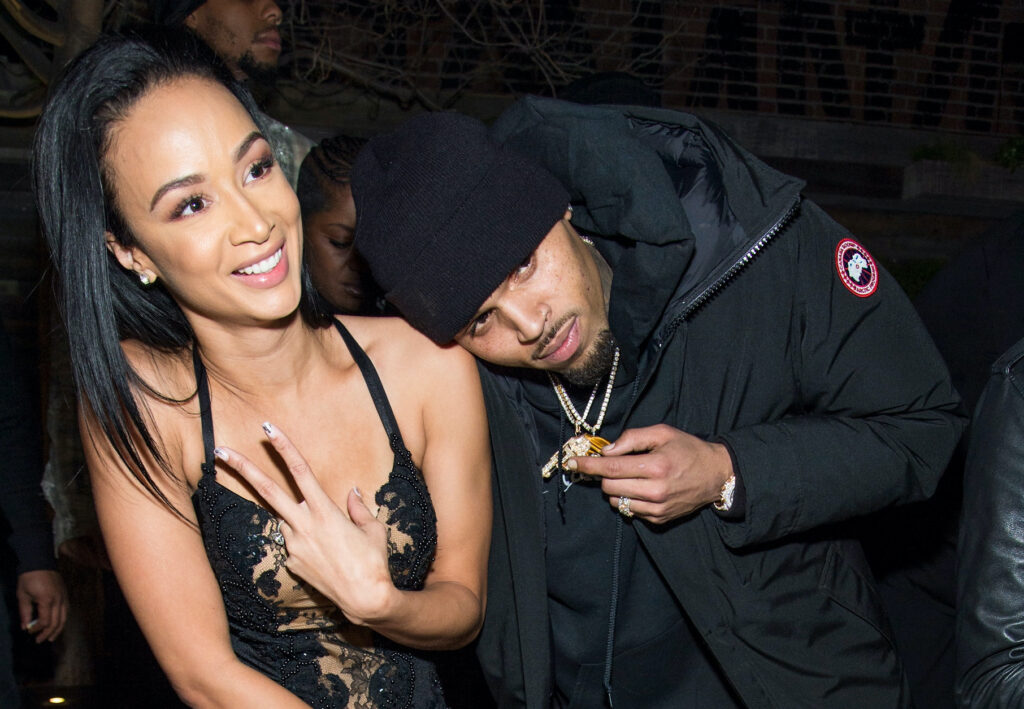 LOS ANGELES, CA – JANUARY 23: Draya Michele and Chris Brown attend her birthday party at Liaison Lounge on January 23, 2017 in Los Angeles, California. (Photo by Tara Ziemba/Getty Images).
The Basketball Wives LA beauty admitted on The Wendy Williams Show that she had dated Chris Brown for 9 months. "I kind of got him at a weak and vulnerable point I guess you could say," she told the host. However, she also added that she never saw any abusive behavior from Brown. Once their brief romance ended, Draya and Brown remained friends. Interestingly enough, the singer introduced Draya to his subsequent love interest, Karrueche Tran.
Karrueche Tran (2011- 2015)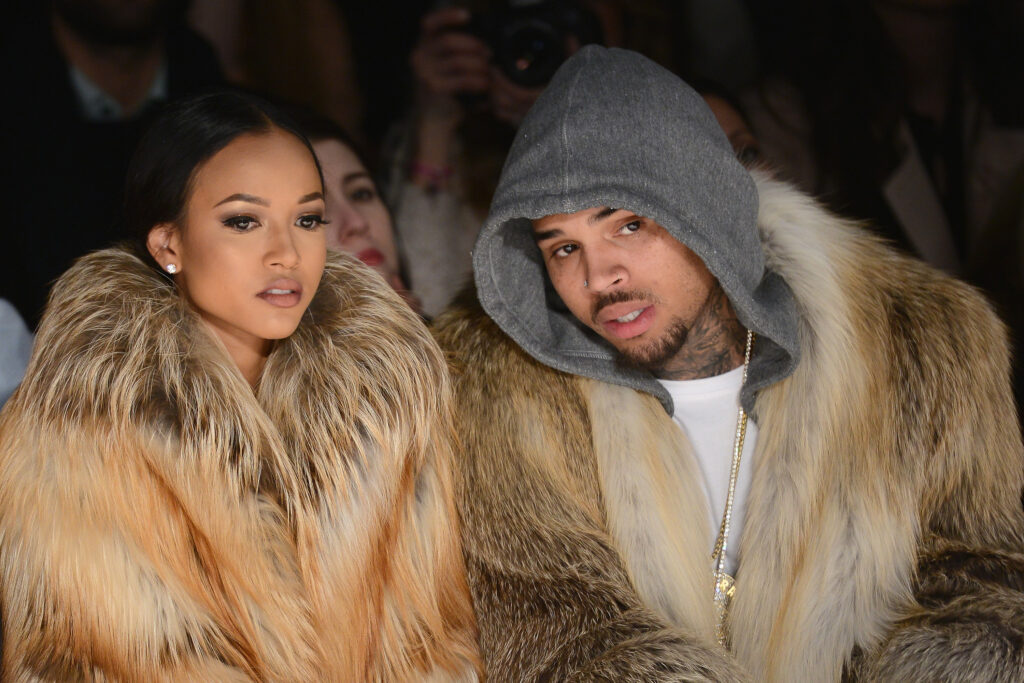 NEW YORK, NY – FEBRUARY 17: Karrueche Tran (L) and Chris Brown attends the Michael Costello fashion show during Mercedes-Benz Fashion Week Fall 2015 at The Salon at Lincoln Center on February 17, 2015 in New York City. (Photo by Noam Galai/Getty Images for Mercedes-Benz Fashion Week)
Chris Brown and Karrueche Tran first met in 2011 while she was working as a styling assistant on one of his projects. However, as the two began to create a bond, she soon found herself in a love triangle with Chris, who was also rekindling his relationship with Rihanna. At the time, he publicly declared he was "in love with two people."
Brown first ended their relationship in Oct. 2012, saying: "I love Karrueche very much but I don't want to see her hurt over my friendship with Rihanna. I'd rather be single allowing us to both be happy in our lives." Yet the two got back together after the Rihanna rebound didn't work.
By March 2015, Karrueche notoriously tweeted that she was leaving Brown for good as he was expecting a child with Nia Guzman. However, Tran said that Breezy continued to pursue her. She claims he even threatened to harm her on numerous occasions. Tran was granted a 5 year restraining order against Brown in 2017 after she accused him of physical and emotional abuse.
Nia Guzman (2014)
Royalty Brown (R) and her mom model Nia Guzman arrive for the "Cheaper by the Dozen" Disney premiere at the El Capitan theatre in Hollywood, California, March 16, 2022. (Photo by Chris Delmas / AFP) (Photo by CHRIS DELMAS/AFP via Getty Images)
Nia and Chris Brown met through mutual acquaintances and then a friendship developed. The two stayed in touch, talking occasionally. Then in 2014, a one-night stand created Brown's firstborn daughter Royalty. Since then, the two seem to be co-parenting successfully, but with some rough patches, of course. After a court battle in Aug. 2016, Chris was awarded joint custody of Royalty.
Agnez Mo (2017)
The Indonesian singer was linked to Chris Brown after he posted a series of cuddled up pics with flirty emojis in the comments. It's unclear whether the two actually dated, or if the release of Mo's 2018 single "Overdose" (which featured C. Breezy) brought on publicity tactics. Either way, the two made a super steamy music video that continued to spark rumors. They even arrived together to DJ Khaled's star-studded birthday bash in Beverly Hills in Dec 2017. Sparks started to fizzle after Mo's single was released.
Vanessa Vargas (2017)
Chris Brown and Vanessa Vargas spurred rumors of their relationship in February 2017. He seemingly confirmed that he was dating the model by proudly posted a photo of her on his Instagram page. In response, she commented "daddy" under the photo. The pair would soon be spotted together frequently, including at LA hotspot Catch. And Brown had no problem showing off the beauty in his Lamborghini. But it didn't take long for their infatuation to fade.
Diamond Brown (2019 – 2022)
Diamond first struck Chris Brown's interests when he started liking many of her IG pics. Soon after, she was invited to his 30th birthday bash in Woodland Hills, Ca. The two dated casually afterward with the model traveling regularly with him while on tour. The 25 year old Miami native gave birth to Breezy's third child, daughter Lovely Symphani in Jan. 2022. He confirmed he was the father after sharing a picture of his new bundle on his official Instagram page.
Ammika Harris (2019 – Present)
Chris Brown allegedly met the Thai and African American beauty in 2015. Their son, Aeko Catori, was born in Nov. 2019. Sometime during that year, the two had a short breakup (and Breezy started dating Diamond Brown.)
In Feb. 2023, the couple spent Valentine's Day in Paris. Then drama stirred up in London when Harris had an altercation with reality star Tommie Lee backstage after Breezy's tour stop. Still staying on the scene, in May 2023, Brown posted some romantic pics and some footage from Harris' 30th birthday. And just as recent as Nov. 10, in a video obtained by The Hollywood Fix, the pair were seen walking hand-in-hand to Breezy's 11:11 album release party in West Hollywood.