September 4th, 2023

Disclaimer: We were kindly given a review copy of the Constellation Edition via GAME, where players in the United Kingdom can purchase the set for £250 online or in-store. This review will be purely for the package that you receive for this premium edition of the game. This review does not include the Starfield game itself on Xbox Series X|S.

The Constellation Edition of Starfield has been the talk of the town, especially with its early arrival for those who pre-ordered. But what exactly does this edition offer that's causing such a buzz? For starters, this edition allows players to access the game up to 5 days before its official release. But that's just the tip of the iceberg. The game comes in a custom steelbook, which houses a redeemable download printed on a credit-shaped token. This token not only gives you the standard version of the game but also includes a 'Constellation Skin Pack' for your in-game characters. The upcoming Shattered Space expansion story will also be included. On top of that, access to the official digital Starfield soundtrack and art book is also included.

Read More: Starfield: Release Date, Xbox Game Pass, Trailer, Gameplay, Constellation Edition And More
Constellation Edition Box
The actual Constellation Edition box itself is absolutely stunning. It is hefty, FEELS Premium and more importantly gets you excited to get into the game itself.
The latch system also weirdly feels space-age, and opening up the case to reveal the Chronomark Smartwatch is extremely cool.
Starfield Steelbook
The steelbook is the only item packaged separately, possibly to allow fans to sell other contents without parting with their game copy. The rest of the goodies are housed in a plastic moulded reconstruction of the Starfield character's inventory trunk. This trunk is a spitting image of the in-game version, complete with the Constellation logo, print, and a unique locking mechanism. Inside, you'll find a Constellation material patch and a Starfield Cronomark Smart Watch, a replica of your character's in-game wristwear.
Read More: Starfield Early Access: How To Play The Bethesda Xbox Game Now
The Starfield Cronomark Smart Watch
The Cronomark Smart Watch is not just a decorative piece. It's Bluetooth compatible with most Android and Apple smartphones. The watch offers a digital display with several working features, all styled in the Constellation theme. A spare strap is also provided if you fancy a fabric touch to your space watch.
Once connected to your phone via Bluetooth, you'll need to download the official app to control the watch settings, access the manual, and receive updates. The watch doesn't function like typical smartwatches, meaning you won't be connecting it to other apps or fitness trackers. However, it does have some handy features. It comes with a pedometer to track your steps, a barometer, an accelerometer, a magnetometer, and even a temperature gauge. When synced with your phone, it notifies you of incoming alerts and displays song titles and artists if you're playing music. Features like the torch function and 'moon phase' screen, might seem less practical. However, these all add to the charm.
This is a fantastic piece of kit, and considering the limited edition nature and price compared to an actual Apple watch etc. it's well worth considering.
Is the Constellation Edition Worth the Investment?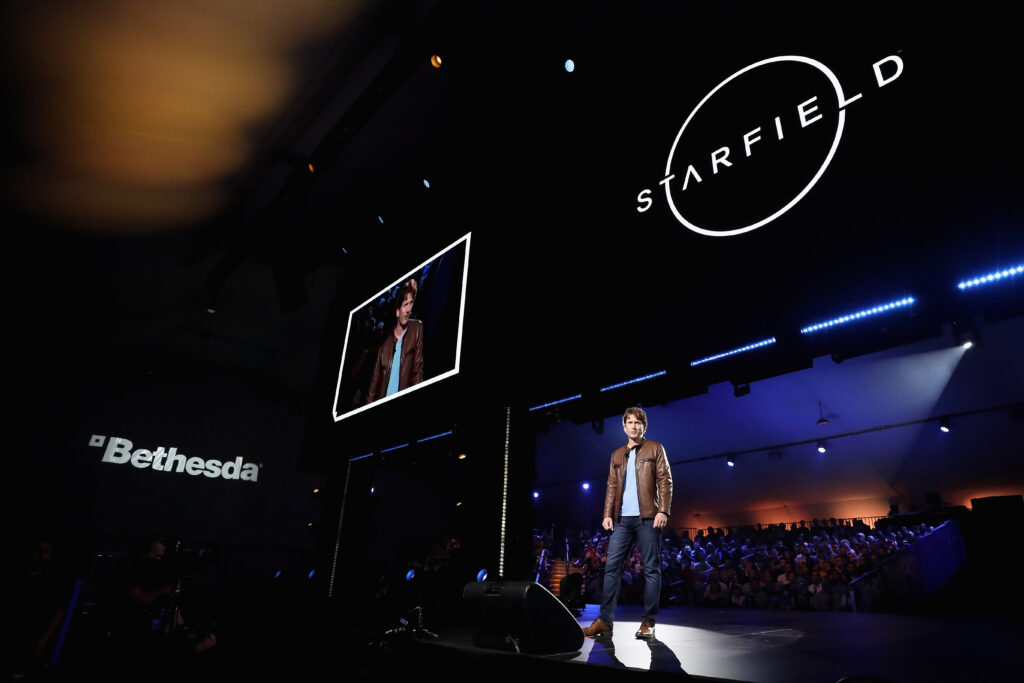 With a price tag of up to $299/£250, almost $200 more than the digital premium edition, one might wonder if the Constellation Edition is worth the extra cost. The answer largely depends on what you're looking for.
If you're a Bethesda enthusiast who's mainly interested in gameplay, this edition might not be the best fit for you.
However, if you're a collector looking for unique Bethesda memorabilia, the Constellation Edition offers limited Starfield merchandise that would look great on display.
For those not fazed by the price and looking for exclusive gaming collectables, this edition is a worthy investment.