October 28th, 2023

Rich The Kid is enjoying the spooky season this week, as many other rappers, celebrities, and everyday people are, as well. However, when it comes to his costume of choice, turns out that he wasn't so lucky to also enjoy some praise and respect for it. Moreover, fans clowned the College Park MC's vampire-like fit online that he shared on Wednesday (October 25) via Instagram, whose defining questionable factor are the arcs that protrude from his shoulders. Honestly, if it wasn't for that, he could've been just fine as a Playboi Carti clone in the Rick Owens vamp era. But alas, this extra detail and what many saw as a copycat fit as a whole drew some jokes online.

Furthermore, Rich The Kid's IG comments filled up with roasts, jabs, questions, and pretty comical reactions. One user posted a GIF of Ryuk from Death Note walking casually, a character who walks around with wings. "Hell Wrong With This N***a Shoulders," another added, although others seemed to rock with it more than anticipated. "Bro is actually tuff," a fan expressed, and Quavo as well as his partner Tori Brixx, whom the 31-year-old had cheated on and apologized for, shared their support of it, as well.

Read More: Rich The Kid Allegedly Sued Over Hush Money Payment To Keep Pregnancy A Secret
Rich The Kid's Halloween Photo Dump: Peep His Clowned-Upon Costume
Of course, Rich The Kid's fit also played into the satanist and Illuminati conspiracies that people love to level at famous folks online. "THEY ARE THE REAL VICTIMS WE ARE ACTUALLY FREE," one user wrote. "THEY ARE THE REAL SLAVES LOOKED SO STRESSED N FORCED TO WEAR N PROMOTE THIER Satanic agenda. So sad these celebs are in Hell!!" Another added, "This is straight Illuminati controlling these artist for $$ and taking away their freedom. Look at slide 6 they gotta worship so they can be publicized. Rich the kid is a [fire] artist one of the best but I'm just saying it's cr*zy." Check out more reactions to the vampire look down below.
Fans React To The Vampire Look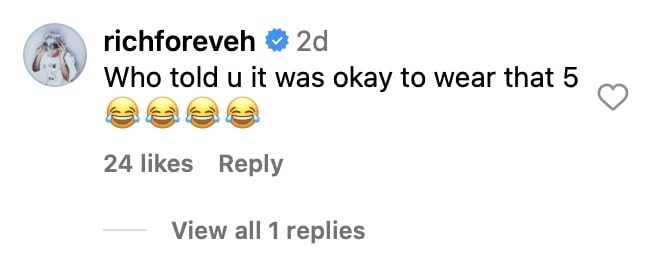 All screenshots via Instagram @richthekid page
Meanwhile, where would you rank this Halloween fit among other hip-hop figures' attempts? Did he pull off becoming a bloodsucker or does he just look like any other Opium goon? Whatever the case, let us know in the comments section down below. Also, come back to HNHH for more news and the latest updates on Rich The Kid.
Read More: Rich The Kid Net Worth 2023: What Is The Rapper Worth?