October 27th, 2023

In the world of music, it's not uncommon to see artists rise to fame and fortune, only to struggle with managing their wealth and personal well-being. But Money Man, a prominent figure in the rap scene, offers a different narrative. He's built a multifaceted career that not only encompasses music but also delves into financial literacy, investments, and healthy living. In fact, Money Man has been schooling his fans in financial literacy while simultaneously crafting chart-topping music. His album CROPTOBER, which dropped today, is a reflection of a direct meaning that translates to, marijuana being plentiful everywhere.

In a recent interview, Money Man shares his journey and the evolution of his artistry. He began by describing himself as a "hard worker" who aims to "spread information" and "keep it solid with everybody." He's memorable for his dedication, and as a rapper, his music reflects whatever captures his imagination at the moment, be it cryptocurrency, entrepreneurship, or even his experiences with plant-based living. For Money Man, creating music is a matter of authenticity. He doesn't force a particular genre or theme; instead, he captures what he's genuinely passionate about in the moment. His studio sessions follow a unique pattern. He takes breaks and records within short periods, aiming for cohesion in his work.

ATLANTA, GEORGIA – OCTOBER 05: Rapper Money Man arrives to the 2019 BET Hip Hop Awards on October 05, 2019 in Atlanta, Georgia. (Photo by Aaron J. Thornton/WireImage,)

With the release of his album CROPTOBER, Money Man sheds light on the deeper meaning behind it. He's bridging his experiences, combining the journey of growing weed and his exploration of the crypto world. His intention is to inspire others to become better, emphasizing that while life is about more than just money, financial success can provide comfort. While Money Man's music is a focus of his career, he's also deeply involved in the world of cryptocurrency and investments, educating others on financial literacy. His insight on NFTs, for example, is pragmatic. He views the NFT market as a high-risk, high-reward venture that follows the ups and downs of the crypto market. He also recognizes the importance of staying educated, reading contracts, and maintaining authenticity in the music industry.

Despite his demanding career, Money Man manages to balance it with healthy living. He emphasizes the importance of understanding what one consumes, adopting a more plant-based lifestyle, and sometimes incorporating mushrooms for health benefits. As he prepares to embark on an international tour, Money Man continues to shape his legacy as a multifaceted artist and entrepreneur. He advises others in the industry to keep contracts simple, stay true to themselves, and strive for authenticity.

Read More: Money Man Net Worth 2023: What Is The Rapper Worth?

This interview has been edited and condensed for clarity. 

HNHH: For those who are not familiar, who is Money Man? And how would you describe yourself?

Money Man: Money Man describes himself as a hard worker who spreads information and values authenticity. He aims to make a lasting impression on people he encounters.

How do you feel you've evolved as an artist over the years?

I really just rap about what I'm on. So if I'm on cryptocurrency at a time, I'm gonna rap about it. If I'm growing weed at the time, I'm gonna rap about it. So really, whatever I'm on. I don't like going in the studio and be like, I'm gonna make a girl song. Alright, I'm gonna make a smoking song. It's really like whatever I'm on at the time. That's what sparked my imagination. And I'm gonna rap about it.

What is the ideal vibe of your studio sessions? Do you like to be in a in a certain type of mood? Do you like to have certain people around? Like, what's your vibe, when you're creating?

It really be phases like, I will not record for two months. And then you know, when the stars align, hit me and I go do 15 songs. Then I'm good. And then another two, three months later, I'm gonna go do that again. So I really record my music within like, one or two day periods.

Wow, that's pretty interesting. Where does the inspo for creating come from? It seems like you have a lot of different things to pull from, creatively.

It depends. Sometimes it comes easy. Sometimes it doesn't. If it's oh, I gotta like, watch something, like watch some movies. Or I gotta go live life for a little while. And then Croptober I made when I was growing my own weed. So I got to experience it and go through it, or have memories of stuff I used to do.
ATLANTA, GA – MAY 17: (EDITORS NOTE: Image contains profanity.) Rapper Money Man attends YFN Lucci In Concert at Center Stage on May 17, 2018 in Atlanta, Georgia.(photo by Prince Williams/Wireimage)
Gotcha. That makes sense. Got to experience life! And speaking of your new album, CROPTOBER, what's the name mean?
For October is when you know when wheat is plentiful everywhere. So you got like an overflow of wheat. So it's Crop-tober, this harvest season, you know. It's everywhere, and prices are cheap. So it's everywhere. There's music everywhere, too.
Nice. So what's the vibes of the project and what can people expect from the kind of music in this project? Is there any specific message you want listeners to take away?
This is more like vibe music you know. I dropped different types of tapes like Catch Me If You Can was really for the swipers, the white collar. This one right here this for the streets, for the trappers. I always give a message. I'm always I'm always trying to motivate people to know become better, like everything ain't about money, but money make you more comfortable. So you might want to go get you some.
What about features?
I don't really do too many features. Because I do my music so fast in a smaller period of time, I don't have time to call people and be like, "Hey, can you do this verse?" Because I don't want to be waiting for them. Like I just made an album a week ago, then it's dropping this Friday. So it's in real time. I didn't make it three months ago, and then it drops. The music game is so slow. Behind the scenes is so slow with them, handling producers and getting the paperwork together and clearances … I don't have time for that. That's why my fan base loves me because I'm always keeping them with new music. So I don't have time for a feature, to get a clearance from a label. Only features I do is with my patnas or something like that.
That makes sense. What about in the future, is there anyone you'd like to collaborate with one day?
I work with anybody, but I don't care to work with anybody. I'm not being arrogant or anything. Because my subject matter is a little different. Like, I'm talking about, my subject matter is so expansive, that a lot of people are not on the same page. I rap about being plant-based, or crypto, or growing weed, or I rap about working out. The subject matter is just too out there.
Speaking about rapping about crypto and putting people on game, what are your thoughts on the NFT market right now?
The current NFT market is dead unless you're in a group of people who value actual NFTs. But NFTs, in my opinion, they're probably gonna come back and have another run. But they're not they're not physical enough. It's a little too early. People would rather have something they can touch as opposed to something on the phone like digital art. A lot of people were wave riders, they didn't take the time out. But what they don't know about is the Crypto cycle. The Crypto cycle is NFTs kind of follow the crypto cycle. They basically are in the Crypto space where you get you buy low and you sell it high. Because crypto always dumps after a certain amount of time. You buy it when it's low. Like right now, nobody's talking about crypto right now.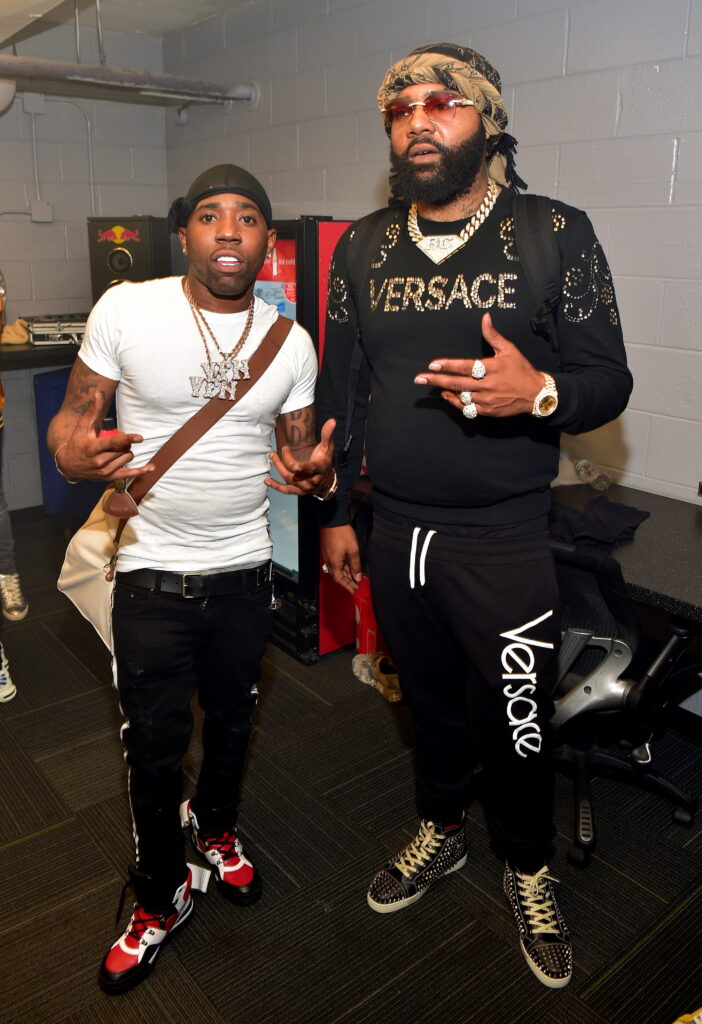 ATLANTA, GA – MAY 17: YFN Lucci and Rapper Money Man attend YFN Lucci In Concert at Center Stage on May 17, 2018 in Atlanta, Georgia.(photo by Prince Williams/Wireimage)
How much money have you made from crypto investments?
Oh, millions, because I've invested around now. It's a bear market. So when you invest in the bear market, it's already up 100%. Anytime you see a crash and you see red in the market, you're supposed to put money in it and you buy. Life is simple. You buy low and sell high. That's all business. ALL businesses buy low, sell high. I'm working on a lot of content because the bull run coming up.
You mentioned the bull run is coming up, basically when the market is doing well again? What kind of content are you working on next?
So I have a Blockchain Two album coming out. Then I got Purple Heart coming out. I got a tour coming up early next year. I got a biography coming out. It's a lot of content.
It sounds like a lot! How do you balance everything? Where does your downtime come in, if that exists for you?
It's no downtime. I just go to sleep. Wake up, get back to it. I get burned out all the time. But I just go to sleep. The way I live, I do things I enjoy. You get what I'm saying?
Sounds like you're living the dream. So what would you say are some of your goals for the future?
I have a solid fan base. I don't need millions. All I need is a few 100,000 who are dedicated and loyal, you get what I'm saying. So I have a loyal fan base. And you know, my music, smooth sailing. It streams millions every year. So I'm not really trippin. As long as my fan base is good. I don't care about anybody else. My goal is really to be a legend. Every man should want to be a legend, that's how I feel. You should want to your kids to be able to live off your name.
Love that. Congrats on the release of CROPTOBER, good luck on tour!
Read More: Investor Who Splurged $800 Million in Bitcoin "On Two Pizzas" Opens Up On Live TV